In a famous tweet, Jeff Clark made it clear that for him buying Bitcoin is a 3-second trade. This mindset has caused many to question what he meant by this and if there are any strategies or tactics worth considering for other traders considering trading in the digital currency.
Jeff Clark's "3-Second" Bitcoin Trade is a way to trade Bitcoin in 3 seconds. The trade can be done through the use of an app, or through trading websites like LocalBitcoins.com.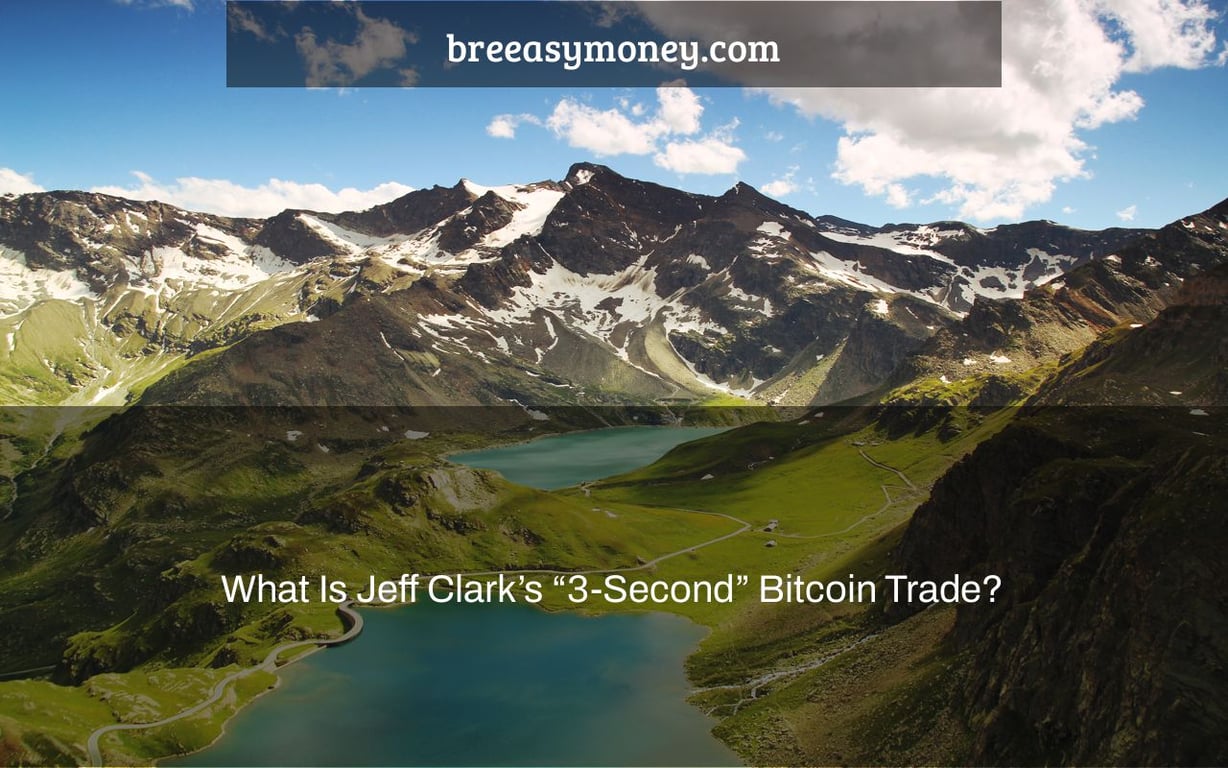 Jeff Clark recently announced a so-called "3-second financial move" using bitcoin options, which he says allows you to "create 10x profits or more from Bitcoin" regardless of whether the market is going up or down.
There seem to be other versions of this presentation going around, but the one I watched was titled The 3-Second Bitcoin "Flip Trade."
jeffclarktrader.com is the source of this information.
During the Bitcoin 2022 Conference, Jeff Clark stood outside the Miami Beach Convention Center, announcing that he would "perform a crazy Bitcoin experiment" to see whether he could earn more money from bitcoin than the "crypto aficionados" in Miami.
"I'm going to take you into that building right now…
I'll be doing a crazy Bitcoin experiment there.
I'm going to put a basic, but little-known crypto maneuver to the test…
And see if I can earn three times, five times, or even ten times more money from Bitcoin than any of the crypto fanatics who are now coming to Miami.
In fact, if you use this rare crypto maneuver, you may benefit even if Bitcoin falls…"
The "little-known crypto maneuver" that Jeff Clark is hinting to doesn't involve a crypto wallet, a crypto exchange account, or "any other sophisticated technology," according to him.
He describes it as a "completely new approach to generate money from Bitcoin," requiring just a smartphone or computer and a "normal brokerage account."
"You'll need a phone or a computer…
A traditional brokerage account…
And this basic transaction took roughly 3 seconds to complete."
To cut a long tale short, Jeff Clark claims that his so-called "3-second" method has helped him generate more money with bitcoin in less time.
And he thinks it will work regardless of whether bitcoin's price rises or falls.
Is it true?
Jeff Clark's plan includes trading bitcoin-related options, which is a legal way for some traders to profit on bitcoin price speculation.
Because options are a kind of leverage, Jeff Clark's strategy may potentially provide larger returns than merely purchasing and holding bitcoin.
However, there are a number of serious dangers associated with this method. And, in my view, it completely misses the objective of bitcoin in the first place.
What Is Jeff Clark's Bitcoin "Three-Second" Strategy?
In the video, Jeff Clark didn't go into great depth regarding his so-called "3-second" bitcoin technique, but he did provide enough indications to get a rough understanding of how it works.
For example, we know Jeff Clark's strategy includes trading bitcoin using a "normal stock brokerage account" based on what is mentioned at the very beginning of the presentation. And we know that his strategy will work regardless of whether the price of bitcoin rises or falls.
"It has something to do with Bitcoin."
The execution time is 3 seconds…
And it might allow you to profit from Bitcoin by as much as 660 percent, 810 percent, or even 1,925 percent in only a few days…
It's all done via your usual stock trading account.
There are no crypto wallets. There isn't a cryptocurrency exchange… No prior experience is required.
The 3-second Bitcoin 'Flip Trade,' as Jeff refers to it…
Because this strategy works regardless of whether Bitcoin soars to $100K or plummets to $10,000."
We also know that his plan includes the following options:
"In a minute, I'll show you a bunch of ways you might have earned even more money with Bitcoin if you'd taken my advice…
However, if you're curious…
Is it even possible?
I'm here to inform you that it entails choices."
[…]
"With my Bitcoin options strategy, you can begin benefiting from one of the most interesting financial assets of the previous decade…"
Jeff Clark is alluding to a "Bitcoin options method."
I've never traded a "bitcoin option," and Jeff Clark's presentation didn't specify the options trading technique or ticker he was referring to. However, bitcoin-related options, in my knowledge, function similarly to any other call or put option.
In a nutshell, an option is a financial instrument that offers a trader the right, but not the responsibility, to purchase or sell an underlying asset at a certain price on or before a specific date. They also let traders to speculate (up or down) on the price of an item without really owning it.
Because an option buyer may pay a very modest premium to "control" a greater stake than would be achievable by owning the underlying asset, options also include leverage.
What is the best way to trade bitcoin options?
"Bitcoin options," like stock options, enable you to speculate on the price of an asset. For example, if you believe bitcoin's price will climb, you may purchase a call option, and if you believe it will fall, you can purchase a put option.
Many crypto exchanges allow traders to trade bitcoin derivatives, including options, but since Jeff Clark's method does not include a crypto exchange, it must include an option that can be traded in a "normal" brokerage account.
And I believe I know what "ticker" he's mocking…
Jeff Clark is teasing about a "Bitcoin Option."
At first, I assumed Jeff Clark was referring to a CME bitcoin option, which is a sort of option in which the underlying asset is a bitcoin futures contract.
However, when reading Jeff Clark's website, I came upon a page that details his trade suggestions' track record. And the ProShares Bitcoin Strategy ETF was one of his most recent Jeff Clark Trader recommendations (ticker: BITO).
To cut a long tale short, it looks that this is what he is advocating.
The fund does not invest directly in actual bitcoin, but rather has "controlled exposure" to bitcoin futures contracts, according to the proshares.com website. As a result, it performs differently from bitcoin's current price.
This ETF, on the other hand, looks to be at least slightly connected with the general price of bitcoin. It's also possible to trade the ProShares Bitcoin Strategy ETF's options.
Because the option's underlying asset isn't bitcoin, it's technically not a "bitcoin option," which is presumably why Jeff Clark didn't refer to it as such in the presentation.
However, based on the hints he offered and the page on his website that reveals his track record, this looks to be the "ticker" he teased in the presentation.
Of course, it's conceivable Jeff Clark is referring to something different, but the core of his method includes utilizing options to speculate on bitcoin's price.
Jeff Clark's Bitcoin Strategy: Is It Legitimate?
Given the leverage component, using options to speculate on bitcoin's price might theoretically be a strategy to maximize returns, and it can also enable traders to possibly profit even if bitcoin's price falls. As a result, everything Jeff Clark mentioned throughout his presentation is correct.
However, there are several disadvantages to this method to consider.
What do you mean?
For one thing, it may take "3 seconds" to execute a trade advice that Jeff Clark offers with you, but I don't think simply following someone's recommendations is a smart idea. It's always a good idea to educate yourself on the investments you're making.
And if you do so, you'll quickly discover that learning how to properly trade options is much more difficult than merely purchasing and holding bitcoin.
All you have to do with bitcoin is acquire it and keep it.
Options need a thorough understanding of complicated derivatives contracts, as well as consideration of factors such as an option's premium, strike price, and expiry date, among others.
Second, although all investments are dangerous, options are more so.
Why? Because, although position size might help reduce overall risk, options require the use of leverage, and when you're wagering on the (very) short-term price movements of a highly volatile asset (bitcoin) while employing leverage… my goodness.
If things don't go your way, your position might be rapidly wiped away. That's it since you don't own the asset. That money is no longer available.
Third, speculating on paper derivatives fundamentally violates the original objective of purchasing and keeping bitcoin (i.e., holding a pristine store of value for the long term).
So, although Jeff Clark's technique may be entirely acceptable in and of itself, and it may work out well for certain people, there are some disadvantages to consider.
Personally, I prefer to keep bitcoin as a long-term investment.
But that's just me.
And it's entirely up to you what you do.
In any case, if you're interested in learning more about Jeff Clark's method, check out his article "Bitcoin's 3-Second Challenge: How to Make 10x More Gains From a Regular Brokerage Account."
And joining Jeff Clark Trader is the only way to get that report.
What Is Jeff Clark Trader and What Does He Do?
Jeff Clark Trader is a monthly research service focusing on options trading that is marketed by Omnia Research and is conducted by Jeff Clark.
Jeff Clark offers his current trade advice and analysis to members every month, as well as updates on his recommendations throughout the month.
Subscribers also gain access to an eight-part video training course created by Jeff Clark to teach you how to trade options profitably.
How much does it set you back?
If you enroll via the presentation, Jeff Clark Trader costs $19 for the first year. It also renews automatically at $129.00, according to the Omnia Research purchase page.
You'll receive Jeff Clark's most recent trade ideas, research reports (like the one stated above), updates, training series, and other tools in exchange for that.
Overall, it seems to be a quite thorough service.
You are the only one who can determine whether or not it is worthwhile to join. And since I'm not a member, I can't tell you how it is from personal experience. At the very least, the service doesn't seem to be a rip-off.
Jeff Clark: Who Is He?
According to the presentation, Jeff Clark is a multi-millionaire trader who has taught people how to benefit from bull and bear markets for many years.
Jeff Clark claims to have owned and run a $200 million money management organization specializing in options trading for over 20 years.
"I owned and controlled a $200 million money management organization that specialized in options trading for almost 20 years.
CEOs, entrepreneurs, venture capitalists, and other rich people made up the majority of my clientele."
He claims to have educated over 1,000 individuals to become registered stockbrokers during that period, and that he was employed by California University to teach MBA students about options trading.
"I was recruited by a California university to educate MBA students about options trading.
I also coached over 1,000 individuals to become qualified stockbrokers when I managed my options trading company. Some went on to work for companies like Merrill Lynch and Paine Webber."
Jeff Clark started sharing his studies and suggestions with Stansberry Research readers at some time. He now manages a number of trading services at Omnia Research, including Jeff Clark Trader, his flagship service.
Is he someone with a strong track record?
Without having access to a comprehensive list of Jeff Clark's transactions, this is a tough issue to answer. However, the page on Jeff Clark's website that I previously referred to displays a list of his transactions for the various services he provides, dating back to 2017.
If you want to see what else he recommends, I've written about his "One Stock Retirement" advice on my site, so you may find that useful.
In any event, there's no assurance you'll earn money if you follow Jeff Clark's advice, but he seems to be an experienced trader. And, based on his track record, he has made some good recommendations over the years.
Conclusion
Instead of purchasing and keeping bitcoin, Jeff Clark's "3-second" bitcoin trading technique focuses on utilizing options to earn money betting on its price.
Given the possible benefit, I can understand why some people might be tempted to this kind of activity, and Jeff Clark's presentation was rather persuasive.
However, I believe it is critical that you do your own research since there is a lot to think about when it comes to trading options and purchasing bitcoin.
At the end of the day, regardless of what asset you purchase or how you trade it, there's no assurance you'll earn money with any investment.
In any case, I hope what I've given in this piece has put some light on Jeff Clark's "little-known crypto maneuver" from the presentation. Thank you for taking the time to read this.
The "how to identify a fake text message" is a question that has been asked by many people. Jeff Clark's 3-second Bitcoin trade is the answer to this question.
Related Tags
scammer list
most common spam emails
threatening email asking for bitcoin
if you no longer wish to receive these advertisements please respond with stop
who is the most likely target of social engineering?